Walking along the Offa's Dyke Path or Wysis Way, both immediately outside our garden.



The Round House (National Trust property) some 300 metres above us, on top of The Kymin hill. The Round House was built in 1794 as a banqueting venue by (and for) the gentlemen of Monmouth. It was famously visited in 1802 by Horatio Nelson and Lady Hamilton during the Admiral's tour of the Forest of Dean; they arrived by boat from Ross-on-Wye, and dined at the Round House. 100 yards away is the Naval Temple, a unique structure built in 1800 "...to perpetuate the names of those Noble Admirals who distinguished themselves by their Glorious Victories for England in the last and present wars..." Nelson was impressed by the temple, and later said, "...it was the only monument of its kind erected to the Royal Navy in the Kingdom".
nationaltrust.org.uk/kymin
wikipedia.org/kymin hill



The Royal Forest of Dean begins about 100 yards from our door: A haven for peaceful relaxation with vast possibilities for walking, hiking and biking.
royal forest of dean.info
pedalabikeaway.co.uk



Cross-country biking along the River Wye, on a Sustrans Cycle Path - less than a mile from our house: 'The Peregrine Path', leading to Symonds Yat and Yat Rock where falcons breed. (See Symonds Yat entry below.)



Rivers Wye, Monnow & Usk: Salmon & trout fishing, kingfisher & otter spotting (Rivers Wye & Monnow 1 mile, Usk 11 miles). Also, there are the most beautiful walks along each of these three rivers.



Monmouth, with its yearly Agricultural Show and rich history - Henry V was born at the Castle, the Chartists were tried here, Lord Nelson & Lady Hamilton visited & dined at The Round House (300 metres from The Garden Room), and Charles Rolls (of Rolls Royce) was born at the family home a few miles out of town, not far from the famous Rockfield Studios (where Queen recorded Bohemian Rhapsody in 1975).



The Wye Valley (1 mile): Beautiful wooded river valley, a lovely drive down to Chepstow (see below).
Wye Valley AONB.org.uk



Various border towns with ruined castles:

Monmouth (2 miles by car). Monmouth Castle was the birthplace of the future King Henry V (1387). Adjacent is Great Castle House (1673) which is the Headquarters of the Royal Monmouthshire Royal Engineers (Militia); thus Monmouth is one of the few castles in Britain still in military occupation.
The Castle may be viewed from the Great Castle House parade ground.
castlewales.com/monmouth

Raglan (8 miles): One of the finest castles in Britain, sadly knocked about a bit by You-Know-Who.
castlewales.com/raglan

Goodrich (8 miles, Herefordshire). An English castle in the Welsh Marches.
castlewales.com/goodrich

Skenfrith (10 miles). On the River Monnow, next to an old mill and 13th century Norman church.
castlewales.com/skenfrith

Grosmont (13 miles) The Castle was once the home of Queen Eleanor of Aquitaine, wife of Henry III.
castlewales.com/grosmont

White Castle (13 miles)
castlewales.com/white castle

Skenfrith, Grosmont and White Castle were the so-called 'Three Castles' (now known as 'The Trilateral') which controlled the local border area, and were originally royal castles. There is a lovely well-signed walk, connecting the three.

Chepstow (17 miles). A splendid Norman castle, strategically placed above the River Wye. The Great Hall was begun in 1067, the year after the Norman Invasion, and is the oldest post-Roman stone fortification still in existence in Britain; here you can also see the oldest castle doors in Europe (800 years' old). Chepstow is the home of the famous racecourse, and there are many interesting things to see in the town, especially the magnificent early Norman Priory Church of St Mary.
castlewales.com/chepstow
chepstow.co.uk



The Doward (4 miles): King Arthur's Cave is one of several caves on the Doward hill, and was inhabited during the Upper Palaeolithic period; Woolly Mammoth bones were found along with flint tools. The King Arthur connection comes from an old legend suggesting that he is sleeping there, awaiting his 'call to arms'.
wyenot.com/doward caves



Symonds Yat (7 miles). Amusements, boat trips on the Wye in the summer, Butterfly Park, The Jubilee Maze; Symonds Yat Rock (famous viewpoint high above the Wye), where peregrine falcons can be observed nesting & feeding during springtime.
symonds yat leisure.co.uk
symonds yat canoe hire.com
forestry commission.gov.uk/symonds yat



Clearwell Caves, in the Royal Forest of Dean (8 miles): Redundant iron mines, made into an interesting museum. A natural system of caves, where mining has taken place for more than 4,500 years - amongst the oldest underground mine workings in Britain.
clearwell caves.co.uk



Tintern (9 miles): The best-known village in the Wye Valley, with its world-renowned former Cistercian abbey. The ruins of Tintern Abbey were made famous by Wordsworth's poem and Turner's painting. Charming village, showing past metalworking industries - Britain's first brass was made here (in 1568) - and full of pretty pubs, cafés and interesting shops.
tintern village.org
castlewales.com/tintern abbey



The Dean Forest Railway, Lydney (13 miles): A local treat for steam enthusiasts. Includes some vintage diesels, undergoing restoration.
dean forest railway.co.uk



Ross-on-Wye (11 miles):Interesting old market town situated high above the River Wye, with perfect views into Wales and the Black Mountains, as well as the fertile fields of Herefordshire.
ross-on-wye.com



Abergavenny (17 miles). Castle & museum above the River Usk, lively market on Tuesdays & Fridays, once-a-year Food Festival Weekend. Surrounded by three mountains: The Skirrid (15 miles), The Blorenge with Keeper's Pond (18 miles), a beautiful artificial lake which served the former iron works of that region, and The Sugar Loaf (19 miles). Each of these are easy to climb in a day and offer fantastic views of the breathtakingly beautiful countryside which surrounds them. The town lies close to the Monmouthshire & Brecon Canal.
visit abergavenny.co.uk



Kilpeck (19 miles) Village, church & (now ruined) castle mentioned in the Domesday Book. The Church is a superb example of the late Romanesque style, practically unaltered since it was built in 1134 on the remains of a place of worship dating back to before 650AD. Extraordinary, well-preserved stone carvings of Christian and pre-Christian symbols.
castlewales/kilpeck



Hereford (20 miles): Medieval market town with a Cattle Market on Wednesdays; general market outdoors on Saturdays, indoors every weekday. Hereford is famous for its Cathedral and the unique Mappa Mundi, a 13th century map of the world. Cider enthusiasts may be glad to know that Bulmers have their HQ here, and there is an interesting Museum of Cider Making.
visit hereford.org
hereford cathedral.org (Mappa Mundi)
hereford cider.co.uk



Llandegfedd Reservoir (23 miles): Sailing, windsurfing and other outdoor pursuits.
A picturesque 434-acre reservoir, run as a Country Park.
gwent adventures, llandegfedd



Blaenavon (23 miles): Recognised since 2000 as a World Heritage Site because of its role in the Industrial Revolution, Blaenavon is the home of The National Mining Museum of Wales. The town and its environs played a pivotal part in the iron and coal industries. 'Big Pit' is here, with trips underground to the old mine workings.
blaenavon world heritage site.org.uk



Ledbury (24 miles): A lovely old market town in nearby Herefordshire, full of black & white timbered houses.
visit ledbury.info
visit ledbury.org



Gloucester (29 miles): Historic city with a beautiful 900-year-old cathedral; historic docks & National Waterways Museum. Also, a Beatrix Potter Museum (She of Peter Rabbit, The Tailor of Gloucester, Mrs Tiggy-Winkle, etc - fame!)
city of gloucester.co.uk
gloucester cathedral.org.uk
National Waterways Museum
tailor of gloucester.org.uk



Llanthony Valley, Llanthony Abbey (29 miles), Capel-y-Ffyn, and the Gospel Pass (1800 ft elevation) below Hay Bluff, leading to Hay-on-Wye.
castlewales/llanthony



The Golden Valley of Herefordshire (32 miles): So called for the golden colour of the corn grown in its fertile fields, which made the owners rich in real gold. Dore Abbey (from the French D'ore= golden, made of gold), originating from 1147AD, was made into a church after the Dissolution. It hosts a yearly Music Festival, as does Llantilio Crossenny (11 miles) , not far from Monmouth.
dore abbey.org.uk
abbey dore court garden.co.uk
Dore Abbey Music Festival
llantilio crossenny festival of music & drama



Bristol (34 miles): A vibrant, youthful city with a great maritime heritage. Museums, art galleries, a zoo and an airport.
visit bristol.co.uk



Malvern (34 miles): Famous for being the home of the composer Edward Elgar, for its Flower Shows and the Three Counties Show (Hereford, Gloucester and Worcester). Excellent walks on the Malvern Hills.
visit malvern.info



Berkeley Castle (38 miles): A Norman fortress with beautiful gardens but a sinister secret, all open to the public, where the Berkeley family have lived since the Castle was built in the 12th century.
berkeley castle.com



Brecon (38 miles): Quaint Welsh town with character and a yearly Jazz Festival. South of the town is the Brecon Mountain Railway.
brecon.co.uk
brecon mountain railway.co.uk



Cardiff (39 miles): The Capital of Wales, with its Cardiff Bay development, theatres, restaurants and marina. Also a splendid castle in the centre of the City.
visit cardiff.com
cardiff castle.com



Slimbridge Wildfowl Sanctuary (42 miles): 'The birthplace of modern conservation' - the Wildfowl & Wetlands Trust, founded (as The Wildfowl Trust) by famous naturalist & artist Peter Scott in 1946.
A specialist wetland visitor centre on the Severn Estuary.
slimbridge wetland centre



Hay-on-Wye (44 miles): A small town surrounded by stunning countryside, world-famous for its many Second-hand Bookshops and the annual Literary Festival.
hay on wye.co.uk
hay literary festival.com



Bath (46 miles): The timeless city of Jane Austen's heroes & heroines, founded by the Romans and enjoyed by visitors ever since. A World Heritage City.
visit bath.co.uk



Evesham (49 miles): A visual treat in Spring, when all the surrounding apple orchards are in bloom.
evesham.co.uk



The Royal Welsh Show, in Winter and in Summer, near Builth Wells (52 miles): Highly acclaimed agricultural shows (the largest in Europe) held in the beautiful Welsh countryside.
royal welsh agricultural society.co.uk



Shrewsbury (74 miles): Charming Border Town with its Abbey and "Brother Cadfael" connections. Charles Darwin was born in the town, & spent his early years there.
shrewsbury.info



Ironbridge (87 miles): A World Heritage Site, where - guess what - the world's first iron bridge was put up.
visit ironbridge.co.uk
ironbridge gorge museums.org.uk



Sheepdog Trials: In special shows all over Wales, Welsh Border Collies show incredible skill helping their farming masters by fetching a flock of sheep down from the hills, separating certain animals and bringing the rest into a pen.
welsh national sheepdog trials.org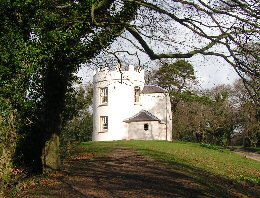 The Round House, The Kymin, Monmouth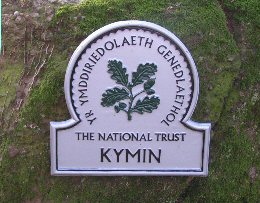 The Kymin, Monmouth - National Trust Property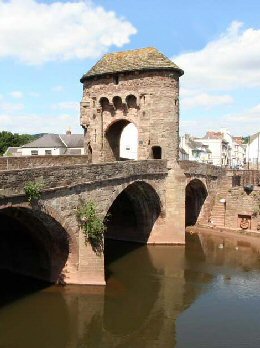 Monmouth's unique 13th Century
Gatehouse, on the Monnow Bridge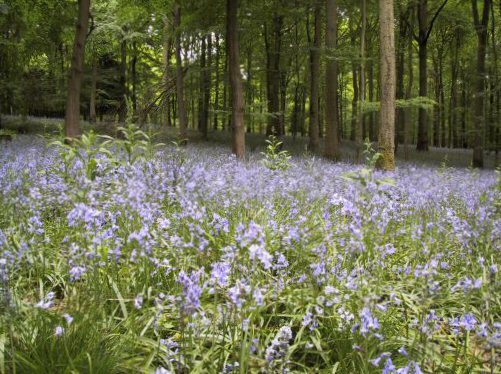 Bluebells in the Royal Forest of Dean
© Sophie Wilson www.sophie.org.uk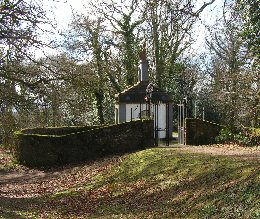 Naval Temple on The Kymin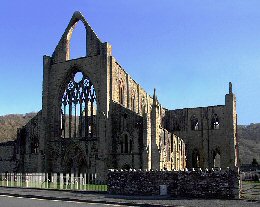 Tintern Abbey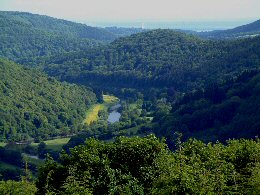 The River Wye winds towards Chepstow
© Philip Stockley
www.wyevalley-related.co.uk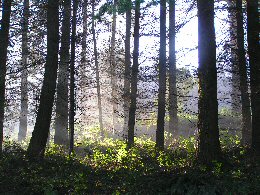 Forest on The Kymin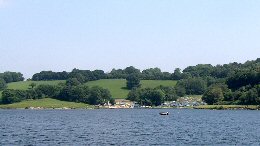 Llandegfedd Reservoir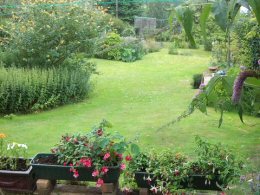 The garden at 18 The Kymin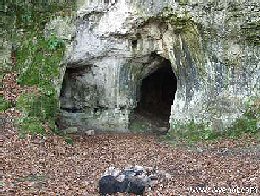 King Arthur's Cave, on the Doward Hill
© Alan J Wood www.wyenot.com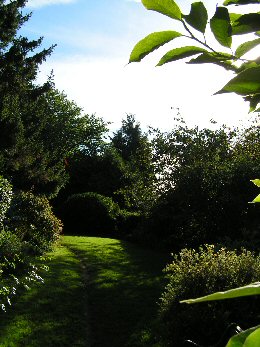 View to the left, from The Garden Room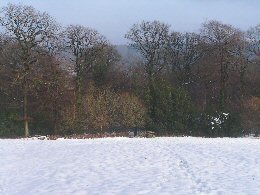 Snowy field on top of The Kymin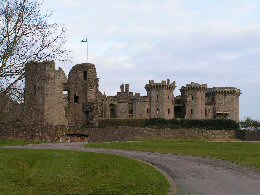 Raglan Castle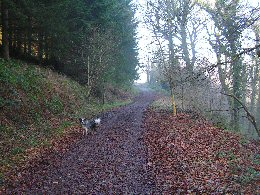 Forest walk on The Kymin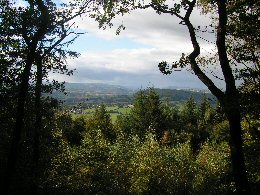 One of the views from the top of The Kymin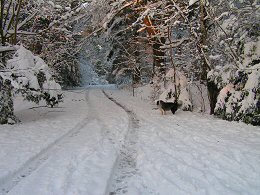 Our dog Finn, in the forest outside our garden
All photographs © Evi & Gordon Williams,
unless stated otherwise