Please scroll down the page for our Safe Care Policy
Evi & Gordon were approved as Foster Carers in 2002, specialising in Respite Care under the 'Shared Care Scheme' run by Social Services, Hereford. Evi was then a carer for a large well-known Children's Charity, which took over the Shared Care Scheme in Herefordshire in spring 2007, lasting until 2014. She works now as a Respite Carer for Monmouthshire.

In this manner, she has been working with many children of varying ages & abilities, with various additional needs, and always with the support of Gordon when needed. In fact, Evi started doing this kind of work in 1985, alongside raising her own three children and teaching a class of Sunday Schoolers aged 2 to 20. She's keen to keep a strong focus on the abilities and individual talents of each person in her care. Her family is now grown up and has moved away.

For some 21 years she has also worked with elderly and infirm people, in a residential care home as well as privately, and in 2008 she updated & renewed her childminding qualifications.

At present, Evi offers respite care for people of all ages, children as well as grown-ups, babies as well as elderly folk.

Gordon had his own business, as a joiner/cabinet maker & carpenter, and is now semi-retired.

Together with a dog and two cats, they live in a cottage halfway up the Kymin hill, surrounded by friendly neighbours, gardens, forest and fields. Their leisure-time interests are literature, music, films, walking, 'green' gardening, family and friends.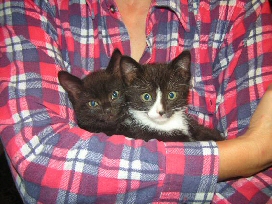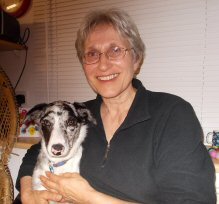 Black Pedro & Tomsk, and Jess the Dog

OUR SAFE CARE POLICY

We both have current Enhanced DBS (formerly CRB) certificates.

Seven points we regard as being of utmost importance, where safe and responsible caring for
people with special needs whom we look after is concerned:

1. We recognize that every person we invite into our home is an individual, with his or her own ways to manifest this fact according to likes and dislikes, abilities and characteristics. We are acutely aware that children, indeed people of any age with a learning difficulty, are particularly vulnerable to misunderstandings and possibly even abuse, because of thoughtlessness, and/or difficulties with communication.
To counteract that, we start off any relationship with any person in our care by requesting as much information as possible, and by providing only the most necessary boundaries (but those firmly!) to safeguard everyone's safety - physical, mental, spiritual and emotional.

2. To put our guest at ease, we would spend as much time as possible just being with him or her, observing, walking, playing (in a non-intrusive way), and generally listening to what is being told to us, with or without words.

3. In the case of children, we ask the parents what rules they want us to keep up, and how they'd like us to do things, for example: routines for snacks & meals, help with personal care, etc.

4. We ask what names the child (and his or her body) is given - and we use the same; how much affection (and how) - and follow suit; what games, treats, outings and challenges are considered appropriate - and keep to them.

5. We endeavour to give care in calm & happy surroundings and atmosphere, indoors or out, in a structured and predictably stable (but never boring) way.

6. We maintain our own & our guest's privacy in the bathroom. Where personal care is needed, it is given with respect; to the more able it is never forced upon, only ever offered. To safeguard ourselves, we try to be at home together for as much of the bathroom routines as possible, all of which are anyway always undertaken with the total approval of the main carers.

7. We aim for the general behaviour between us to be never compromising or confusing to our guests whatever their age, gender or ability.

We embrace every individual with his or her own desires and needs. We try to provide perfectly-fitting, tailor-made respite care, which leaves everyone involved with a feeling of peace and wellbeing. We always look for ways to improve stimulation, comfort and contentment, and are always open to suggestions!